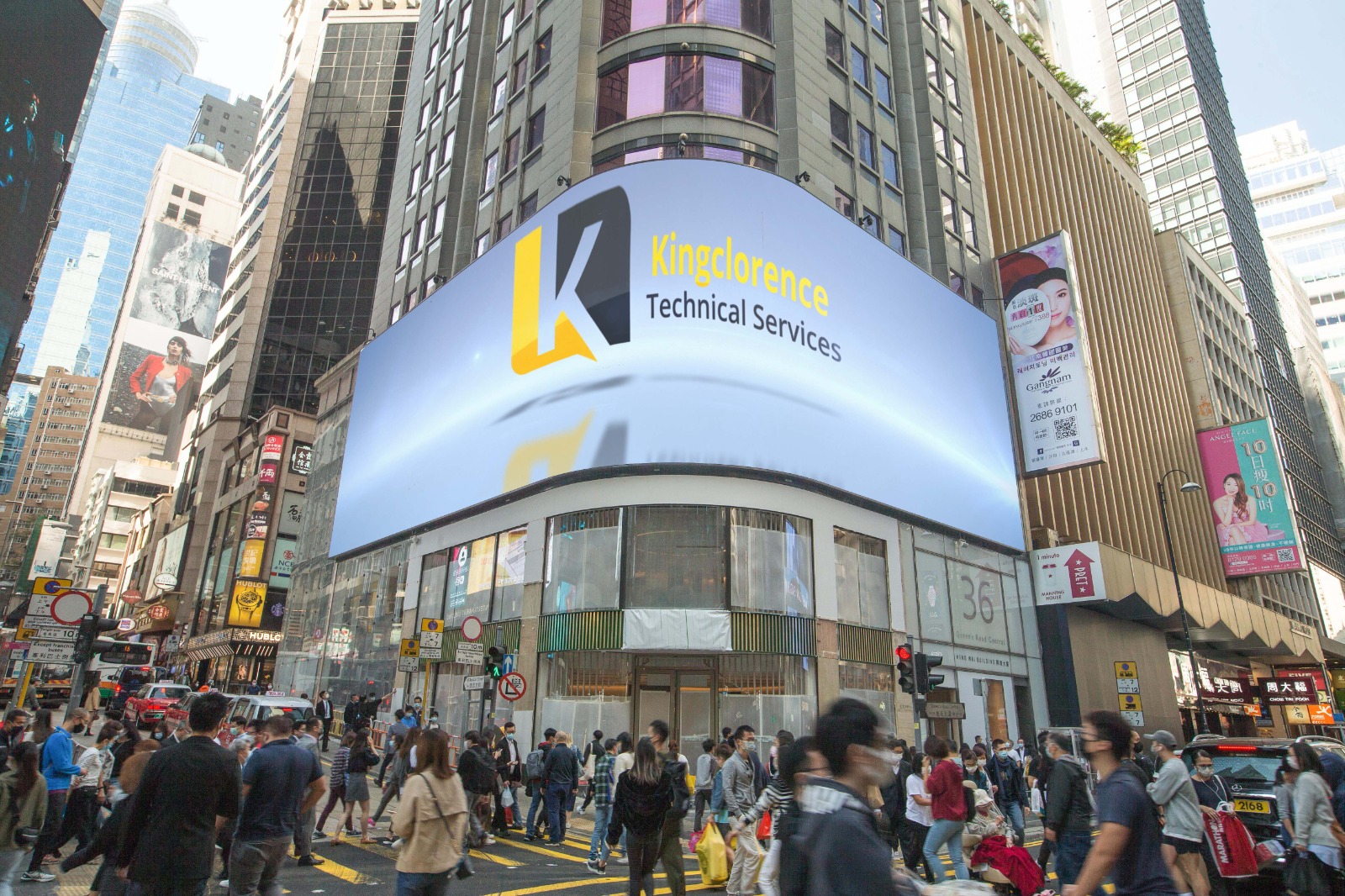 With COVID-19 leading to travel restrictions that barred entry from mainland or other tourists, businesses located in main shopping districts such as Central saw a direct hit to their revenue. Landowners are prompted to reduce their rental rates so that tenants can remain in business and also pay their rent. In light of this issue, some landlords have taken a different approach whereby they search for ways to maintain their rental rates to not lose out on their rental income. One such way is by asset enhancement, which is to enhance the value of a property through renovation, usually by implementing new technology that can better complement and help the tenant's business. The LED curved video wall at Hing Wai Building that serves as a digital billboard is an example of this.
Digital out of home (DOOH) advertising gives a more engaging and interactive experience to its audience compared to traditional out of home(OOH) marketing. The difference is that an OOH advert is static with a single image placed over a period of time, DOOH can offer multiple animated videos or the like via digital screens, which can reach its intended audience in real time.
GBE steps into the DOOH marketing limelight by completing Hong Kong's first curved LED video wall at Hing Wai Building on 36 Queen's Road Central, the project first began mid May 2021 and recently completed late November 2021. Companies can now advertise their product or service on this enormous screen which can deliver sharp and colorful content in high resolution and clarity, surely attracting the attention of those who walk by it. The video wall measures at 35200 x 9200 mm and at 4224 x 1108 (4K) resolution, it curves naturally and seamlessly with the shape of the building. LED video wall technology was chosen due to its ability to offer seamless images with minimal bezels, high quality optic characteristics, and its scalability to any shape or size , with all this incorporated it allows the video wall to look great from any angle.
Viewership Area of Video Wall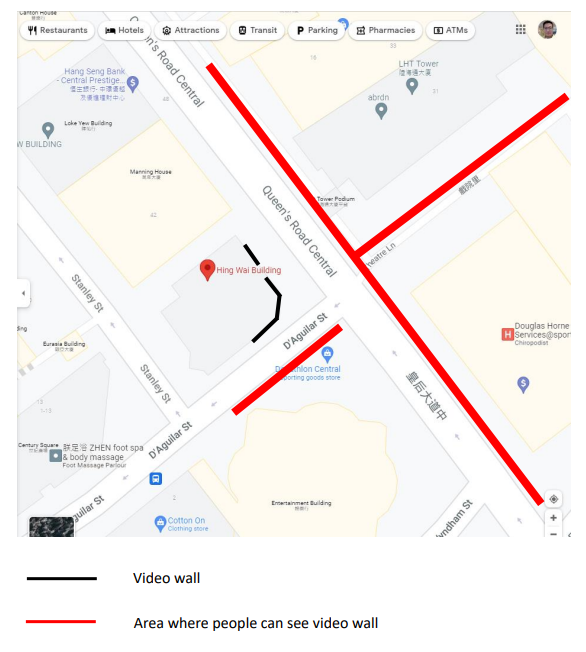 The black line represents the video wall and the red line shows roughly the surrounding area where people can see the video wall. The video wall borders two main streets, D'Aguilar Street and Queen's Road Central. Pedestrians walking on Theatre Lane will also have a good view of it. A study on the foot traffic on these surrounding streets revealed that around 160,000 people passes through this area per day. So, you can imagine the amount of attention the video wall can potentially get per month.
Video wall of today
"The global LED Video Walls Market is expected to gain momentum on account of numerous benefits offered by video walls, namely, ease of maintenance, high flexibility, and performance."
In today's transforming world of digital information,  video walls differ mainly from indoor usage such displaying price of products at a store or outdoor DOOH advertising. Video walls are an effective form of digital signage that can support content customization, and dynamic 3D content such as producing the illusion of objects 'popping out' from the screen. Especially curved video walls that allow the audience to experience this effect more immersively.  Examples of such content can be viewed below: