Fire safety can be regarded as one of the primary considerations in building designs. The terms of fire safety cover a wide range of building concepts, ordinances, and regulations under the law. When we consider the fire safety works in banks, the concept of Fire Safety (Commercial Premises) Ordinance should not be omitted. The introduction of FS(CP)O is one of the ordinances which aims to provide better protection to the occupants and visitors on certain kinds of commercial premises.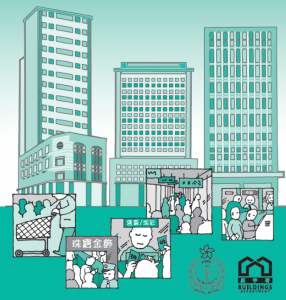 Prescribed commercial premises and specified commercial buildings are under the scope of the ordinance.  For the captioned the premise, they are required to update that fire safety construction including means of escape, means of access, fire-resisting construction under the Code of Practice for the Provision of Means of Escape in Case of Fire 1996, Code of Practice for Fire Resisting Construction 1996, Code of Practice for the Provision of Means of Access for Firefighting and Rescue 1995 respectively. Also, the premises required to update fire services installation following Codes of Practice for Minimum Fire Service Installations and Equipment and Inspection, Testing, and Maintenance of Installations and Equipment 1994 when the total floor area exceeds 230 square meters.
As a building professional to cope with the above issue, a desktop study needs to be conducted first. It is essential to calculate the number/width of the exit door and exit route following the purposed usage of the premises. The comparison of the recorded plan and Fire Safety (Commercial Premises) Ordinance may draw attention to the fire safety deficiencies. The site visit is followed to identify the deficiencies. fire services system always associates with water supplies and electricity. For the aged building, some non-emergency services like electricity will be located in the exit route. However, those non-emergency services did not enclose by FRR materials. It may post a potential fire hazard. Insufficient width of the MOE route, insufficient number of exit routes to the required staircase, presence of the fire shutter in the exit route, absence of exit sign, absence of the exit door, etc are the common scenario for the aged commercial premises to deal with the ordinance. The reasons for the above deficiency can be caused by certain reasons including the change in use, the absence of the fire safety ordinance during the construction period, and unauthorized building works by the owners.