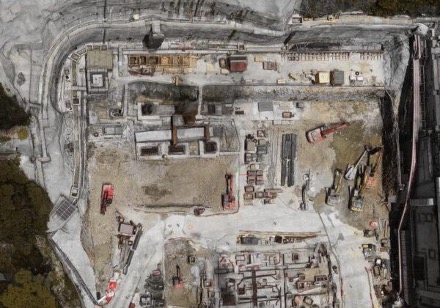 Drone application in the view from Professional Surveyor 
As drone technology, or Unmanned Aerial Vehicle (UAV) , becomes increasingly mature and commercialized, the real estate industry has jumped at its potential for building inspection. 
Use of Drone in Construction field / inspection 
Drone technology contributes to the construction field in several ways. It can be used to capture a full picture and provide a solid understanding of the site. It can help in constructing a progress model that assists in monitoring construction process with ease. 
Theory Vs Practical and Professional 
In theory, it is an elegant solution that allows inspection to be carried out on areas that are hard to access. In addition, some IT Engineer alleged that an accurate diagnosis of the building could be be exponentially enhanced by AI. Though, we have had a lot of reservation to this AI application theoretically. However, the actual application of drone technology in building inspection can be less than optimal and costlier than previously believed. Aside from all the hype, it may not stack up against other alternative building inspection technologies and methods.
Professional Surveyor Feedback to Drone application
While UAV can reach areas that are difficult to reach, they have their own physical limitations in professional building surveying. 
Physical Limitations includes:
Hardware Limitations 
UAV has a general altitude limitation of 90m and the image pixel is limited at 1084-2k in most models. The image via the controller is usually compressed for storage, at an even lower resolution. For some inspection which demands close visual inspection, such as sealant shape, cracks on the wall, damp patches mark, deformation of materials, rusty stain etc. The image captured are lust loss and become unreliable. 
Glare from the reflective surface 
Drone operation is heavily dependent on weather conditions. Sunlight can cause glare on reflective surfaces, rendering footage and image unusable. Should there is strong reflective sunlight, the image becomes glared with distorted illusion background . 
Insufficient data for thousand type of variation to build machine learning
AI diagnosis for building inspection is often mentioned as a feature together with drones. AI is built on top of a massive database that promises diagnosis and predictive ability. However, buildings vary by many elements, such as building envelope, height, location, profile, and usage. Furthermore, buildings are dictated by regulations as a product of the location, weather and idiosyncratic factors. There simply isn't enough data available to power AI to be a blanket solution to building inspection. Currently, professional knowledge is still essential to interpret information generated by AI.
Safety and Lack of Standardization 
There are designated No Fly Zones due to congested buildings, privacy, securities, etc. In addition drones application is not standardized for UAV inspection deliverables. One very rare known limitation is the safety distance between the building and the drone, many drone model is designed to be in hold position when the drone intervenes into the safety distance. This distance makes the image captured ability be doubtful.  
Form over substance
Professional Knowledge is indispensable and cannot be replaced by UAV or AI currently. Having said that, drones can assist Surveyor in capturing images, reference pictures and preliminary scans prior to on-site survey. Unfortunately, it may upset the Surveyor owning to the image reliability. 
Drone application and 360 Cam
Our feed previously posted has presented the 360 Cam for capturing in centimetre distance to the external wall. The image is sent via data to the mobile phone. The inspector can inspect the physical object with the immediate aid of 360 image .
Be a smart user to technology 
Always be handy to the technology can advance your professional skill. On the contrary, too much fantasy to the technology will be ended with effort abortive